I've been so satisfied by my last buy from Nasty Gal online shop I wanted to highlight my favorite dresses made by this great American label. Dresses are gorgeous and high quality. I know because the satin dress I posted in my last outfit post was beyond my expectation and I was so surprised by such quality for a low price (luckily it was on sale!). It looked like a designer dress.
Here's my Nasty Gal dresses picks (most of all under $50) of high quality with some suggested sophisticated accessories to show up on pool side. Make sure you don't be too long many items are on sale and almost sold out. Check if there is a promo code.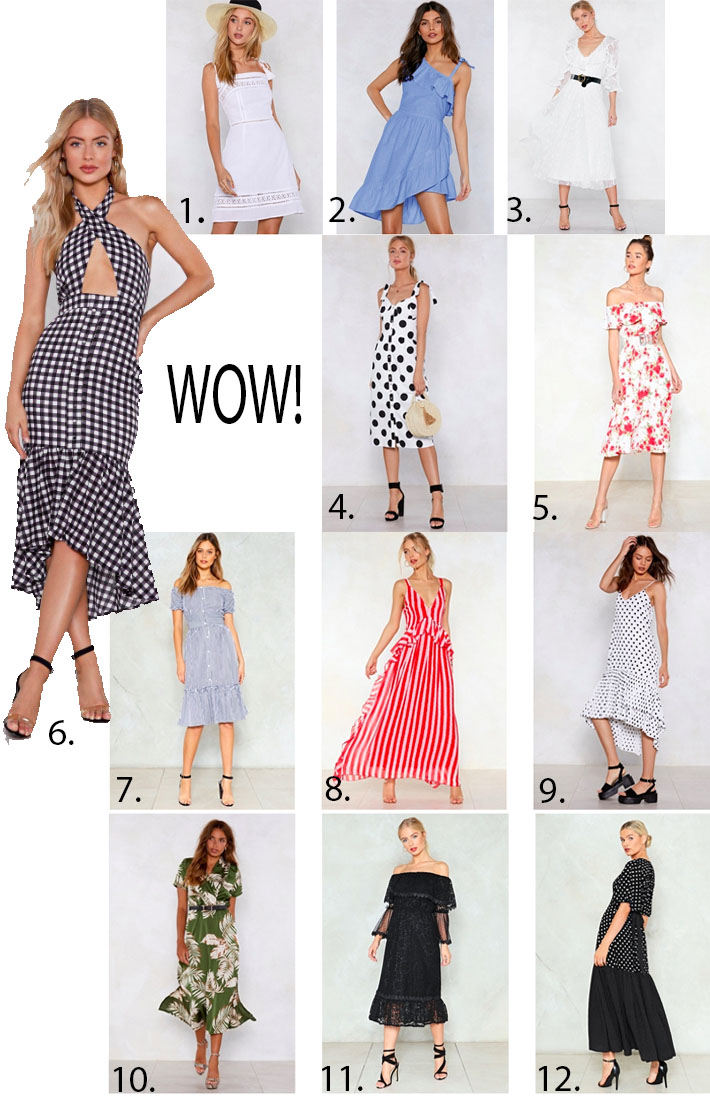 1. Mini white dress with thin straps
Perfect for a beach or a countryside getaway. I would be for these two occasions because of the short length.
2. Asymetric mini dress with frills
Why wearing a sarong when you can wear this pretty little blue dress? When just coming out of the water, I love wearing this kind of dress at the beach club or at the pool bar. It's an instant look change quite efficient. Make sure to dry yourself before because wet spots are a big no no and so unattractive.
3. White sheer dress with V neckline
This flowy texture is great and show just enough skin without revealing everything. This pure white fabric is a perfect match for a boho-Far West style that I would love to wear with a large double buckle belt, a large trim hat and stylish booties.
4. Dress with large spotty prints
9. Robe à pois noir et blanc avec bretelles larges à noeuds €45.00
This dress is right on time. Indeed, spots are on trend now and will be also next season. I love the sweetheart cleavage and its vintage silhouette I would wear with a flat stiff straw hat I wore here inspired by South Europe.
5. Off-the-shoulder midi length dress with floral prints
The fifties dress style Marilyne Monroe or Ava Gardner could have worn.  That's an almighty seductive power dress for a date! I would accessorize with nice white cateye or heart shape sunnies, a small straw bag and the summer 2018 trend shoe, pretty mules.
6. Gingham print dress with criss cross front detail
An impressive cut I love. Of course because of ruffles but also for this criss cross front detail I would prefer to wear with flats due to the sexyness level of this dress.
7. Off-the-shoulder midi length dress with front buttons
A romantic and cute style I already I own. It's comfy and sexy according the way you unbuttoned up or the lower part. I don't wear too much jewelry and I prefer thin delicate ones like the one in this look.
Stripes are so on trend now I could miss this one. It's great for vacation or a summer night out with nice massive earrings, a clutch, delicate sandals or in case of cooling in temperature white booties.
9. Black and white slipdress with dots
Another dress I named multitasking because you can wear it in different ways for various occasions, daytime with flats, mules and nighttime boost it with pretty strap heeled sandals or this fall with a roll neck sweater under the dress, nice gold earrings plus boots.
This print make you feel like on vacation but it fits well for the city with its midi length and its chic silhouette that cover what needed for the office. An awesome transition dress you can wear day to night. I would wear with white sneakers for a casual day look and nice heeled sandals for night.
I see here a Greek-gothic style to wear with gold lace up sandals or wedge heels. For the haircut I would make a  a pom pom ponytail or a crown braid.
12. Maxi dress with dots print and wide sleeves
It looks very Iberian. I think I would reinforced it with hoops earrings and thin strap sandals. Great for any occasions it depends how you accessorize it.
In the same categoryDans la même catégorie