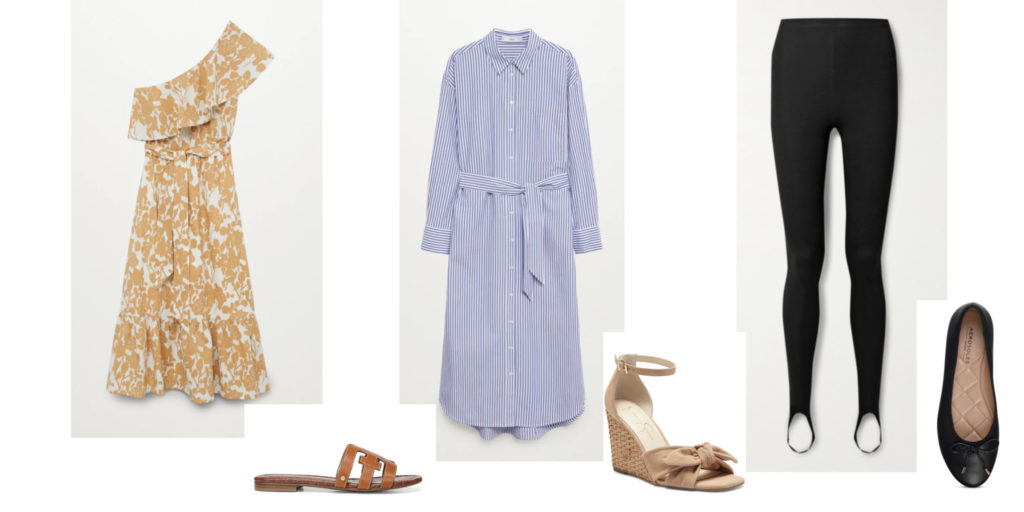 My feed on my blog and on social network has been very restricted for a while. A time I needed to adjust my new life as a future mom and my new emerging interests resulting of our current pandemic life with my blog content. Now I'm looking for more things gathering practical, long lifetime and of course nice looking. Thus, the criteria I want for my maternity clothing. See what I found cute, comfortable, stylish to wear for your spring and summer maternity outfits.
Fluid Designed Dresses
I hate maternity clothing lines because they often look old fashion. Personally I don't feel my best right now and I really need things easy but dressed up that lift my mood up and bring me self-confidence. A maxi chiffon dress with a nice cleavage or with a slit is becoming my favorite spring-summer style and is always a success.
Elastic Waistband on Pants
They are great for your everyday pregnancy style. I actually own two tailored pants with discreet elastic waistbands and they are as handsome as comfortable. A kind of casual pants you meet also right now with athletic glam trend leads by the tailored joggers. I elevate these with a blazer and chic heeled sandals. Note that adjustable drawstrings waistband pants are also very comfortable and useful when your baby bump get wider.
Oversized Shirts
You instantly look sharp with a nice shirt. It's wide enough for your baby bump and it looks great with leggings or anything fitted at the bottom to balance volumes. I love wearing delicate jewelry to polish the look and to bring a feminine touch, at least stud earrings and for instance a pave bracelet. Note that you can use a shirtdress and therefore in the summer you don't have to wear anything at the bottom.
Fashionable Leggings
They are back fashion and even on Chanel runway! I preferably pick sober colors in grey or black made in nice trendy textures that look expensive. I love my fake leather leggings or my black classic ones.
Mini Cute Dresses
My inspiration is undoubtedly Twiggy and Mia Farrow in the sixties wearing pretty high neck mini shift dresses. Mia Farrow's style is impeccable, simple and look dressed up with natural make up and minimal jewelry. I will certainly try mini dresses in spring with a trench coat, knee high leather boots and for the hottest summer weekends with a pair of slip-ons or with flat lace-up sandals.
Chic Flats
I know that somehow soon I won't be able to bend myself to lace up my shoes soon so I really need shoes easy to put on and kick off. Check out also these post where I listed the best ballerina on trend available in large sizes.
Some of the links included in this blog post are affiliate links, meaning that I may earn a commission if you click through the link and make a purchase.
In the same category