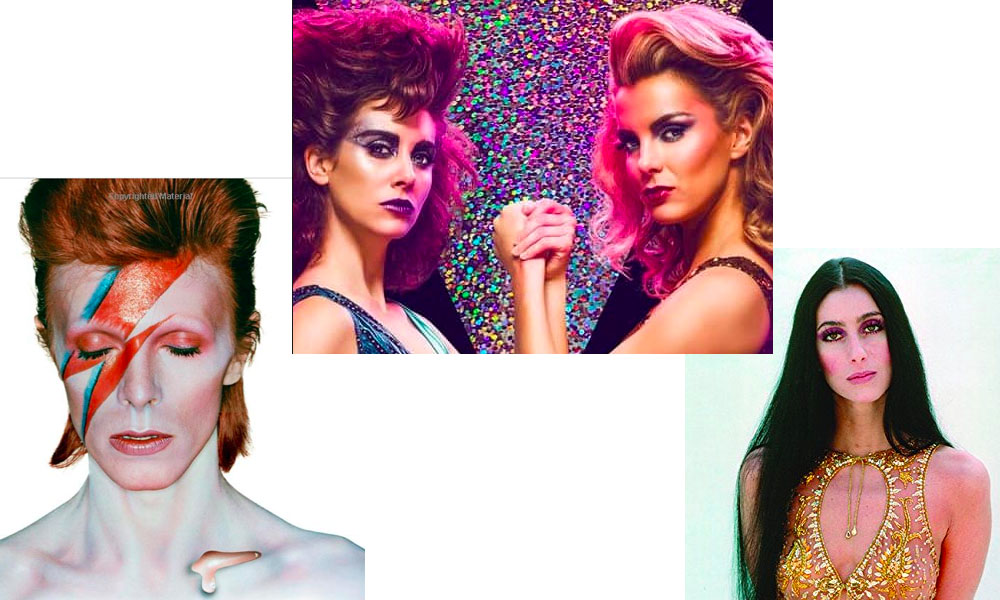 For those who are late for getting their Halloween costume like me I got some easy and cool costume ideas to create with your own wardrobe and some accessories you can get in most stores and vintage boutiques. Indeed it is quite too late to order anything online. This year I got some inspiration from artists from 70's and 80's, tv series and movies.
David Bowie 
Maybe for some he was costumed all year and was kind of androgyny. A good point because women can easily copy his style. Get some skinny bright colored pants, a metallic tie or with fancy prints, same things apply for a slim top and jacket. Then If you have long hair tie them as an updo in order to hide them and to look like having short hair. Make sure to create lot of volume in front. Then spritz red color hairspray. Make up has to be exaggerated on eyelids. Use one bright color like blue or pink and make sure to have your face as clear as possible so the eyeshadow will be even brighter. Put on some lipgloss and you ready for the dance floor.
Elton John 
Here we are close to Bowie's style but it is all about exaggerated accessories not in amount but in term of sizing. The mandatory and legendary piece are statement sunglasses. When I think about Elton John's style I think immediately about crazy sunglasses. Then find a colorful suit. You can maybe found one in a thrift store for a dime. To go a little fancier I would add platform shoes and a big necklace.
Cher 
I can't talk about Elton John without Cher. These two extravagant personalities are on the top of my list. If you have already dark long hair you made half of it. If not check your drawers or get in stores to find a wig. Then you just need to get a deep plunge v neck top, jumpsuit or maxi dress, add fake lashes, lot of mascara and blush. Don't forget to either go extremely extremely curly with your hair or straight with a low ponytail, hoops earrings and you are the queen.
Mad Max 
This is one costume I'm tempted to try this year. I would pick lot of silver jewelry and leather pieces like high waisted shorts, for the top a tank top or a crazy corset (remember JP Gaultier bustier in the 90's specially conceived for Madonna. I would cover my legs with black fishnet tights and wear combat boots or cowboy boots. To look more as a fearless warrior I would hold a skull and a dark military makeup. Don't forget the crazy messy hair for a wild allure.
Matrix Trinity 
This one is so easy if you have a long black leather coat or a jacket and leather pants. If they are in patent it is even better. The finishing touches are the sunglasses they have to be also black and with a futuristic shape. If you have long hair, straight and tie your hair in a low ponytail.
Westworld and Little House on the Prairie 
Uh! I think it's not necessary to list you all fall fashion campaigns showing high collar prairie dresses and western details such as shirt denim and cowboy boots. All these were already very popular last summer but is going bigger next year. Back to Far West's Halloween costume. The dress is the key piece (a top and skirt should do the trick). Then slip on thick black tights or knitted knee high socks and put on lace up boots or cowboy boots. For hair attach ribbons around your ponytail or your Dutch braids. Grab a straw bag and get on your stagecoach 🙂
Netflix tv serie GLOW
Back to eighties to embody one of those gorgeous girls fighting on a pink ring, get a fancy swimsuit and wear it over sheer tights. Grab high sneakers like Reebok very popular in eighties or black combat boots. The look has to look like very Jane Fonda at the gym but with outrageous make up and voluminous hair!
In the same categoryDans la même catégorie