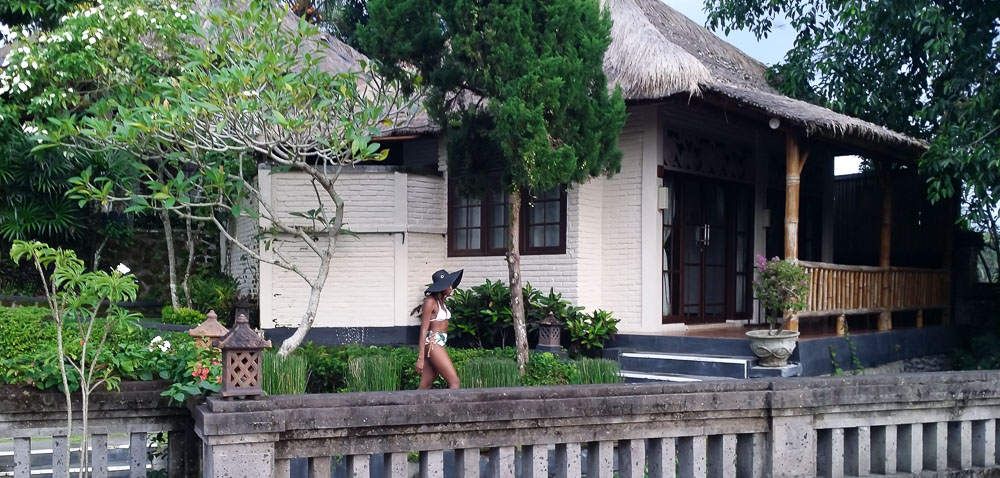 Upon your arrival, the nature's vibrant colors of Bali's island will seem supernatural. The vegetation is dense almost fluorescent, and the size of some plants and trees are almost artificial so they are huge. Think about the scene in Jurassic Parc's first movie and you will see. The most enjoyable season to go is I think just at the end of the rainy season in April.
The population is mainly Hindu and very practicing. Families regularly displays offerings in front of their homes. Public transportation is non-existant so people mainly move by motorcycle. This is probably the most effective way to get around traffic jams on the main road that crosses the island. Note that if you decide to travel by car and take a guide, be sure to organize your route. This is what we did to see everything possible during our short stay. Our guide Dana (you can contact directly via instagram) proposed us several types of visits related to our interests.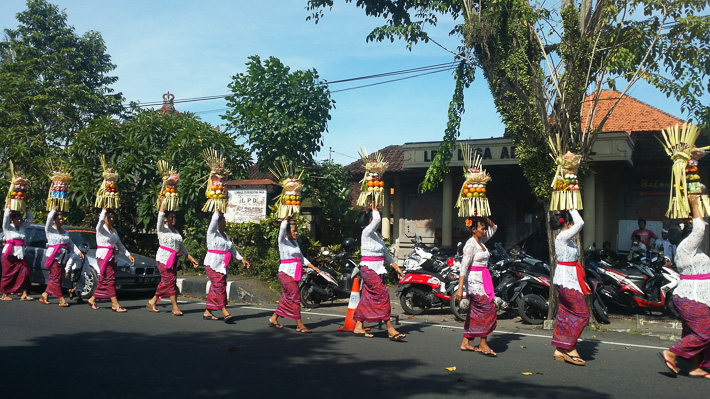 WHAT TO DO
TEGENUNGAN WATERFALLS
They are magical but also all the site that surrounds it. There are small pools with clear and shimmering water where I took a small shower to cool off before going up the endless steps on the way back to our vehicle.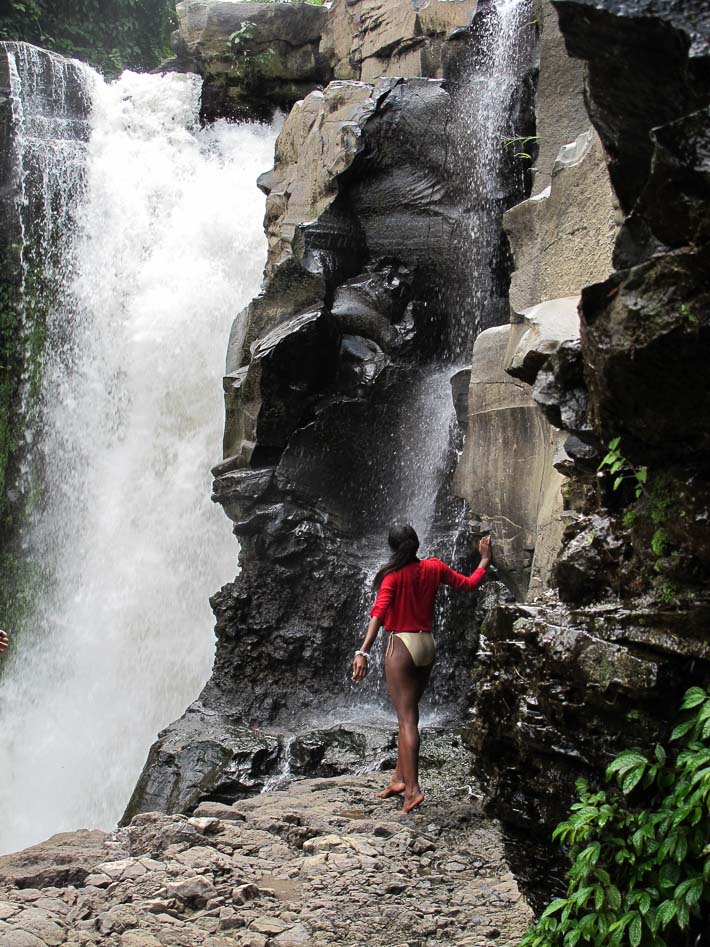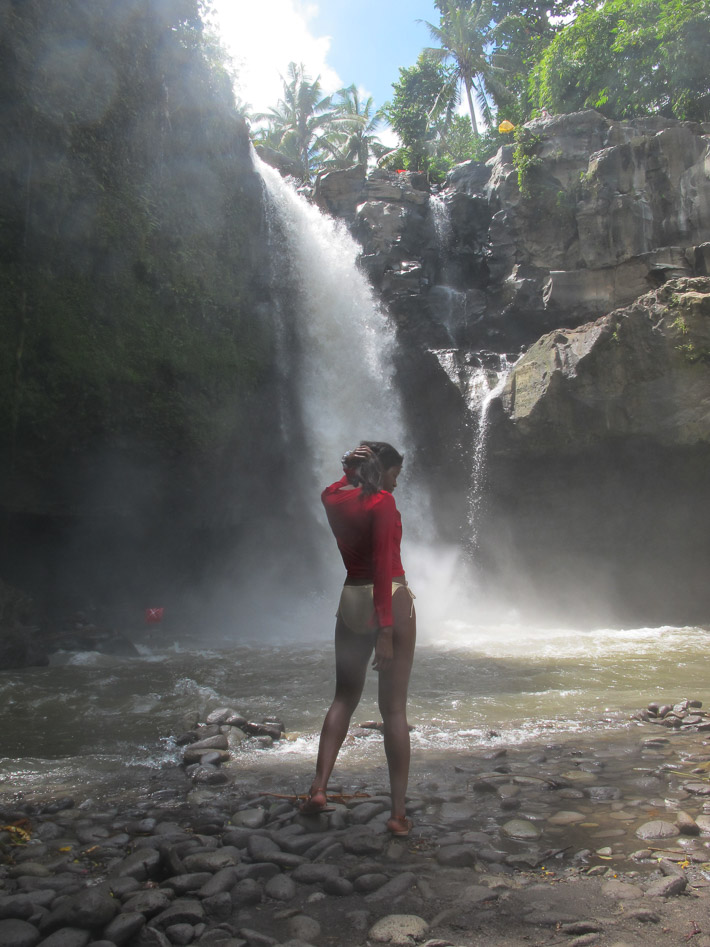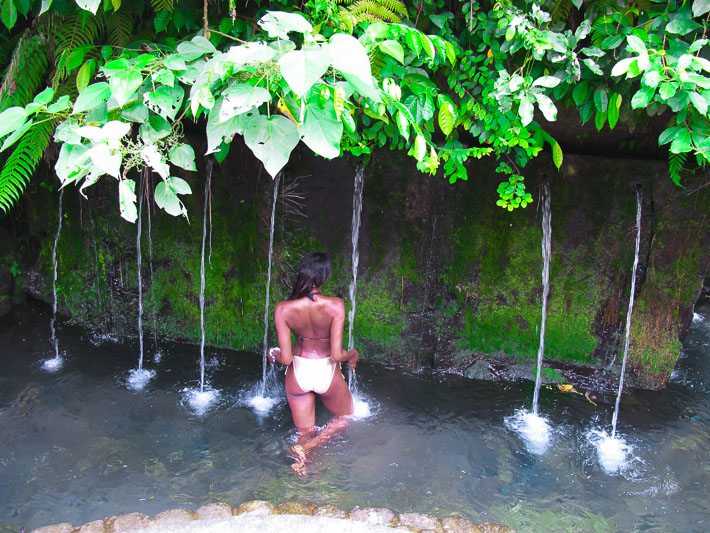 TEGALALANG RICE TERRACE
These huge and green stairs are as beautiful as on the travel agencies advertising campaigns.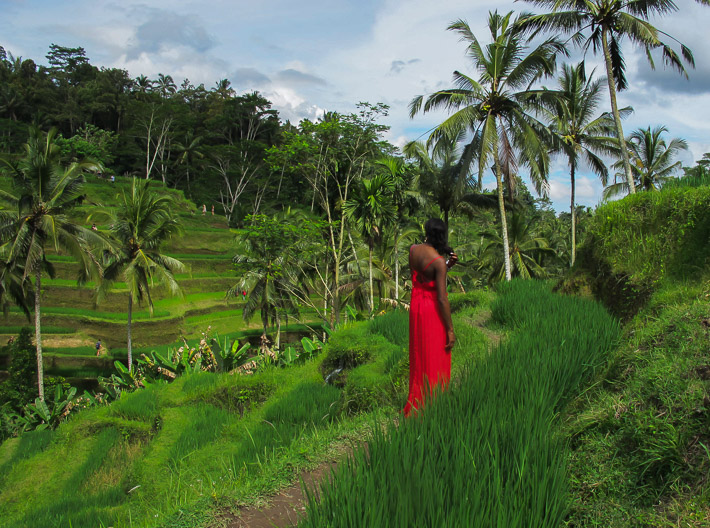 TASTINGS
In coffee shop Alas Harum, in Ubud, we tasted the most expense coffee of the world made with Luwak p**h. 🙁
Honestly I did not try it but my fiance did. Note that you can make tasting of all kind of coffee and tea without Luwak. Up in a wood cabane with a view on the Ubud forest, you will enjoy your tasting.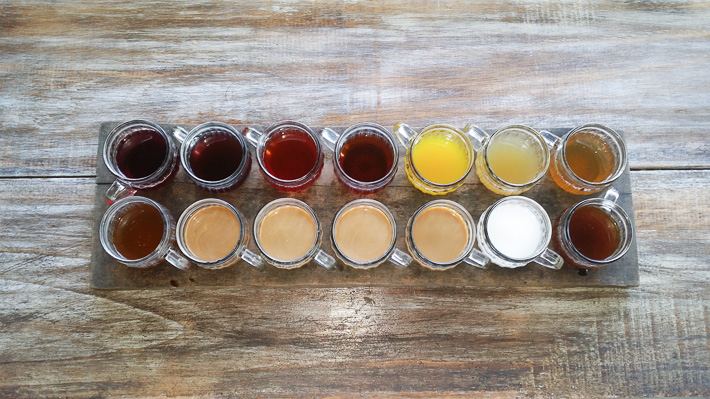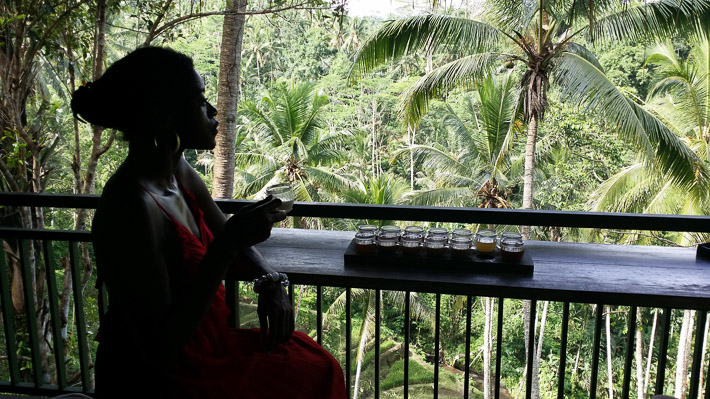 GO SURFING! 
I started my first surfing lesson in Seminyak where I met my super surf teacher Sukok Bagus. To start well and feel like a pro, I offered myself this pretty neoprene springsuit. There are so many surf shops on the island. Major brands such as Billabong, Ripcurl, Quicksilver, Roxy are there and offer very original quality items you won't find so easily in Europe.
If you visit East Bali, try diving or snorkeling in Amed. You should also try to visit the surrounding islands; a friend went there and she told me it was worthed it. This is part of the activities I plan to do for my next trip to Bali.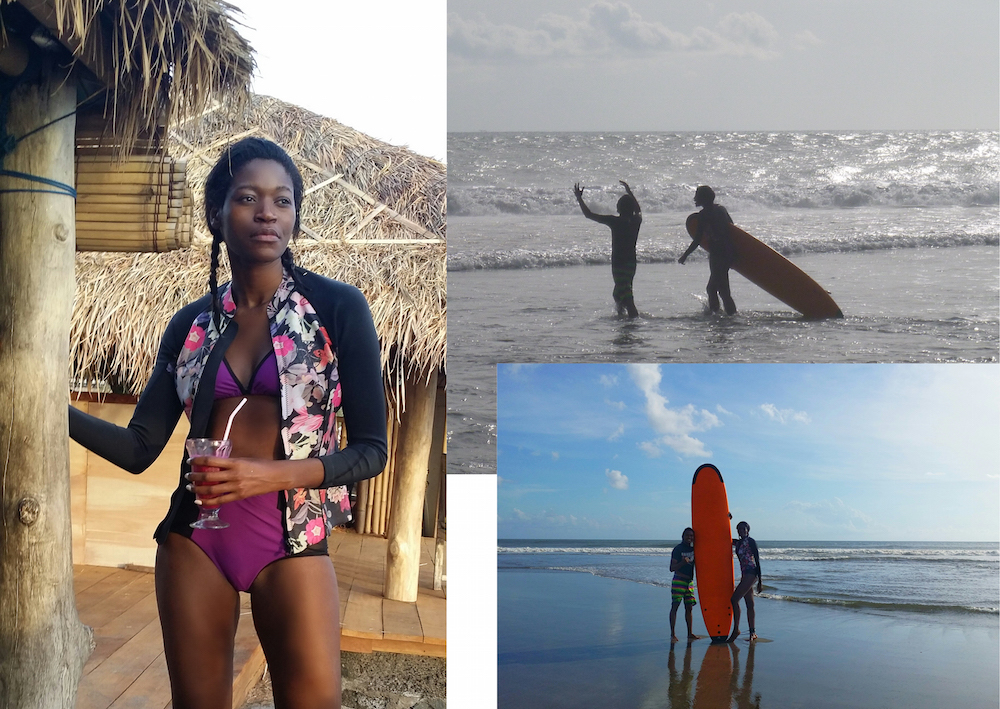 DRINK A PITAYA SMOOTHIE ON THE BEACH
This is the fruit that I love to eat when I'm on vacation in Asia and here in Indonesia but all the fruits are delicious and it's an opportunity to discover unusual food.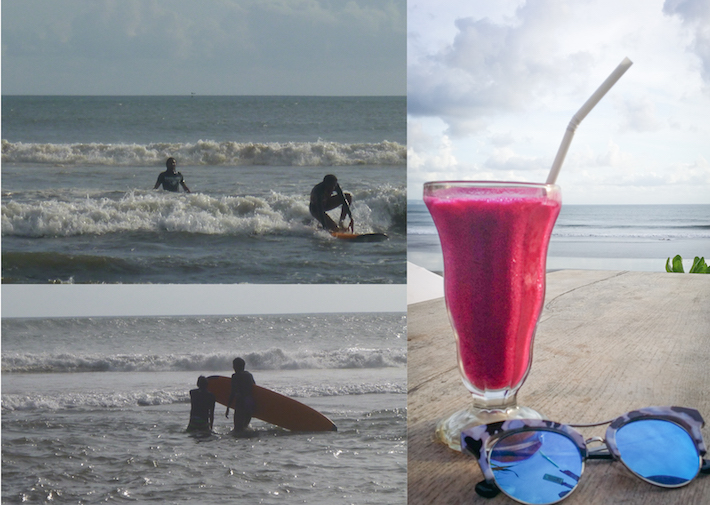 TEMPLES 
They are everywhere on the island but some are more impressive than others. Plan on good walking shoes and a casual outfit.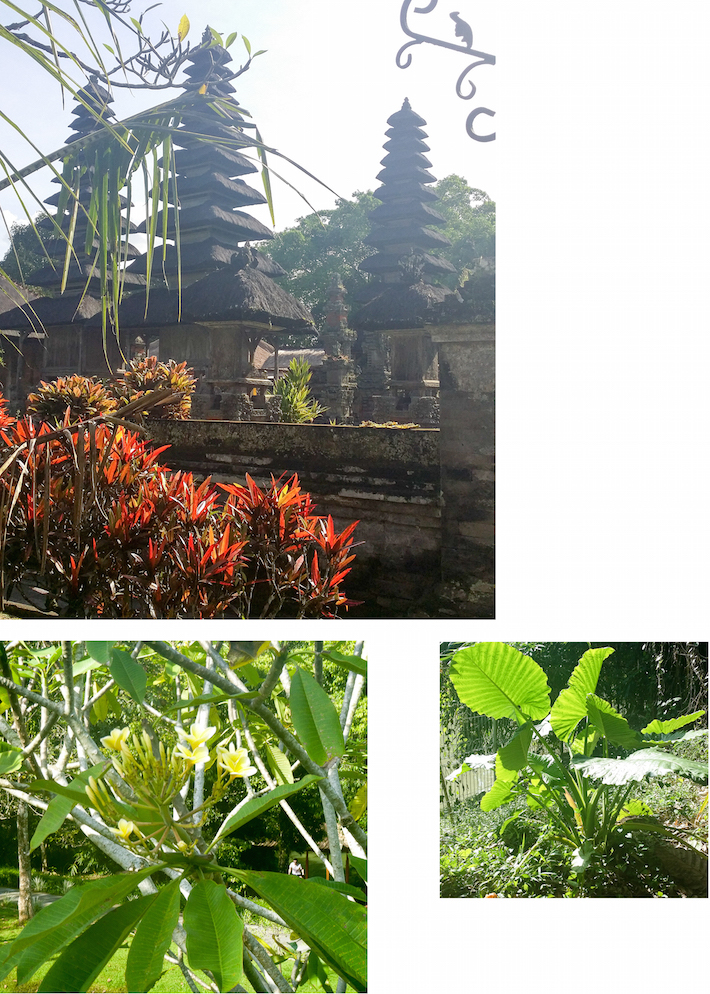 THE MONKEYS FOREST 
This is one of the tours that I liked the most. The place is fantastic, the monkeys watch you and sometimes jump on you without necessarily attacking you if you follow the instructions given at your arrival. The vegetation has engulfed the bridges, sculptures and paths but that's what gives the charm to this place.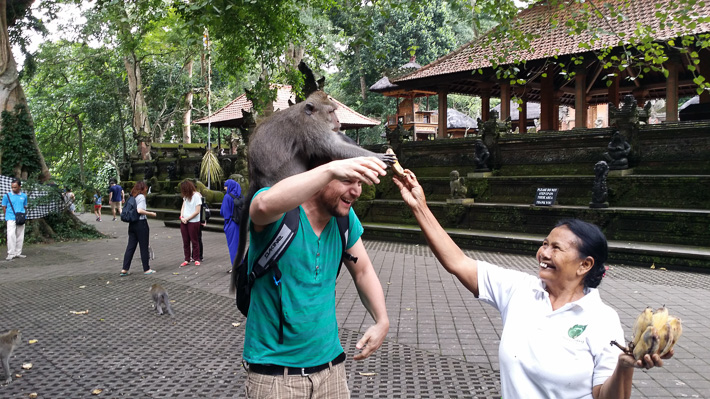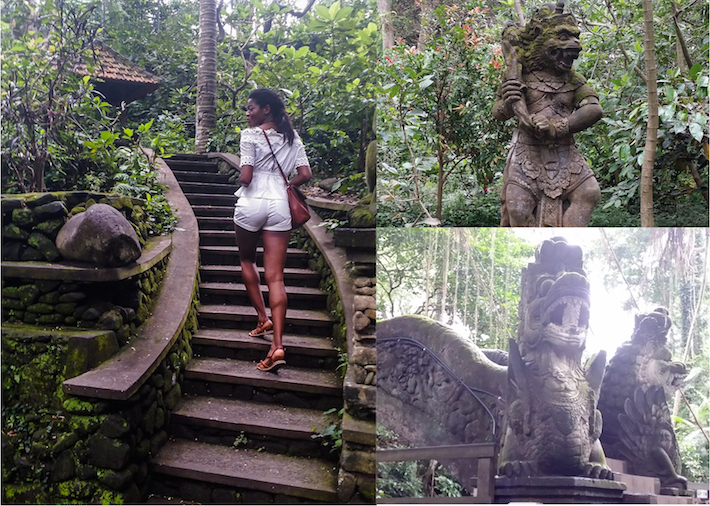 BEAUTY & WELLNESS

Relaxing in spas is really the activity you should not miss when staying here. You will not be disappointed. The massage sessions are generally long enough to relax and often take place in exceptional places. I ended my stay with a beauty ritual at Fivelements including full body massages with oils of my choice and ended my session with a bath of aromatic flowers, perched on the banks of the Ayung River in the middle of nature Ubud. What luxury!
SHOPPING 
This is unfortunately something I have not done enough (for once) and I regret so much. I dreamt to offer me one of those famous straw handbags you've probably seen at some designers' collection this year. You can find some at the Ubud market or directly from a craftsman in this area. The island is also famous for its sterling silver jewelry, rich fabrics, wood carving, pottery and Balinese painting.
WHERE TO STAY

Bali offers beautiful villas at incredible prices. Feel free to rent a villa (book a few months in advance to have options) with a nice infinity pool and a breathtaking view of the Ubud jungle or the sea if you are on the coast, you will not be disappointed but when you come back home after enjoying so much luxury, you will probably get depressed. There are also very nice hotels but frankly the villa is my favorite type of accommodation.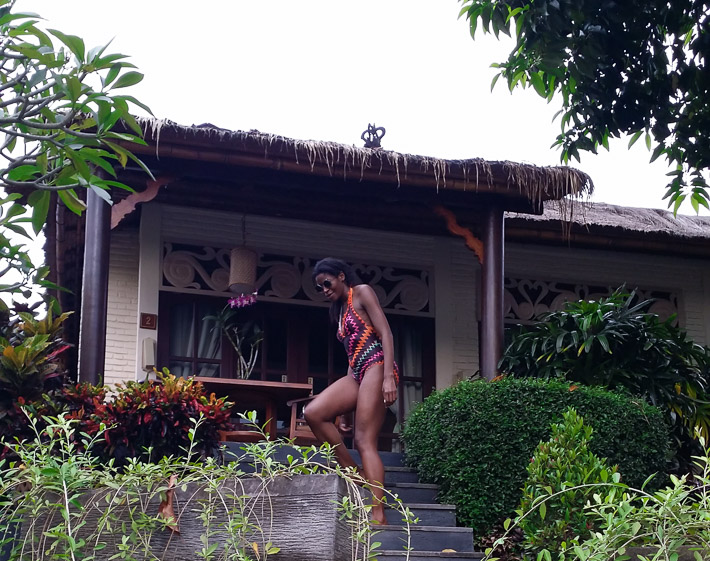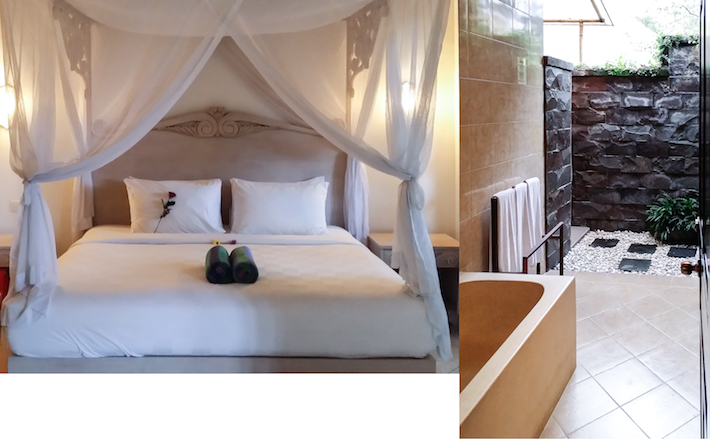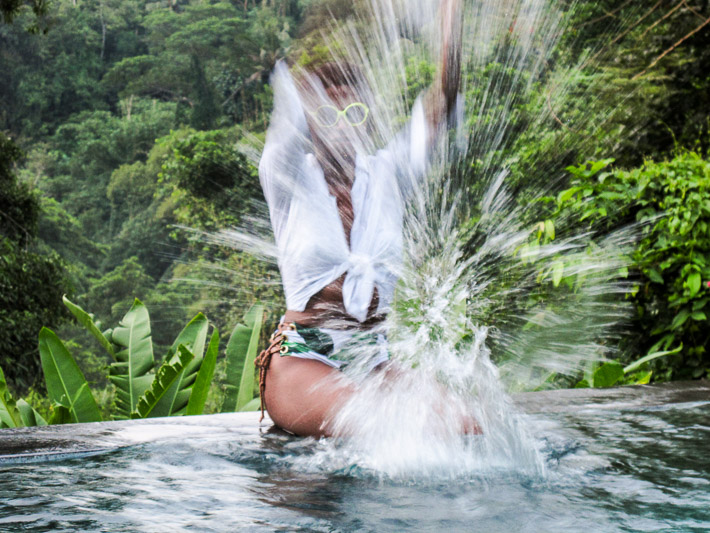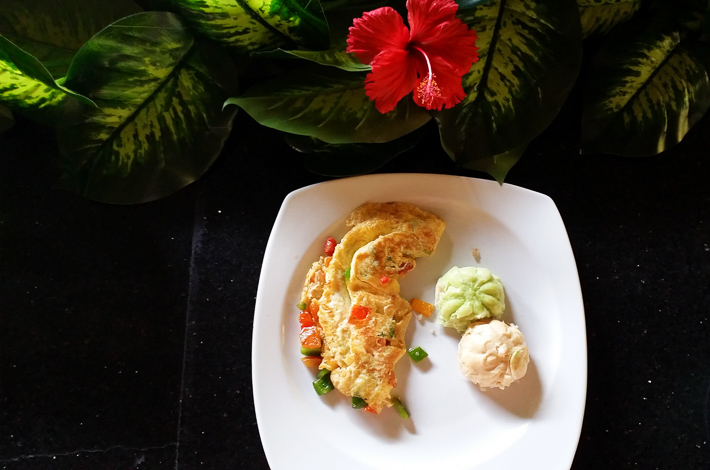 WHERE TO EAT

We often had our meal at the hotel for lack of time, but we stopped in Ubud at Bebek Joni (where a lot of tourists make a stop between their excusions in Ubud). Then we had a meal in Seminyak at the Plantation Grill. In the first one you take your meal outside with terrace view. They offer delicious menu of the region. The second in Seminyak is a chic restaurant, on two floors with soft lighting and modern decor and the menu is very varied. There are so many restaurants so you will certainly find a restaurant that will suit you.
While strolling in the streets of Seminyak, we noticed this wonderful restaurant, La Sicilia Bali. I hope someday to have the opportunity to go back for a great meal.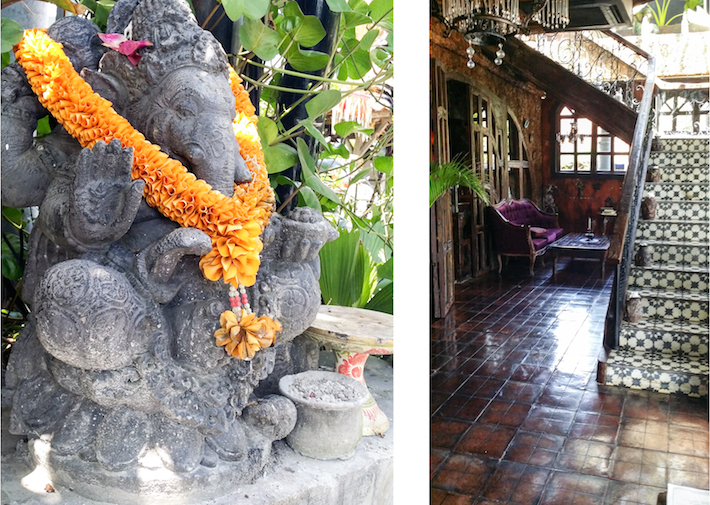 WHAT TO WEAR
Remember to pack casual outfits and at least one dressier outfit for the evening. To save space in your baggages, think about choosing clothes that you can wear during the day and evening such as a dress that you accessorize with jewelry to make your outfit more dressed and don't forget to bring nice sandals with heels.
Swimsuit, Mara Hoffmann. 2. Bag, Cult Gaia. 3. Dress, Chicwish. 4. Dress, Boohoo. 5. Dress, Lisa Marie Fernandez. 6. Earrings, Baublebar. 7. Floral dress, Moonsoon (out of stock but similar here). 8. Flat sandals, Stuart Weitzman. 9. Bag, Mar Y Sol. 10. Sandals, Nine West.
In the same categoryDans la même catégorie