The earlier you shop the better you will get coveted pieces before everyone else but first you need to know what are the top trends of the season to come, the one that are wearable and those you really wanna wear. Here I focused on trends that speaks to me and reflect more my personal style. Here are some of my favorites fall trends I consider to be the most wearable, versatile and sophisticated.
CAPES
The design to get now is very long, minimalist in wool fabric, in neutral colors and with not too much buttons or prints. Think what kind of cape could wear a rich Parisian bourgeoise or an elegant witch like "Maleficent". I didn't find a lot of affordable capes in stores right now but you can find very nice ones on Etsy.
Ruffled Collars
When I wanna standout, I need to be a little more daring with details like a ruffled collar or cuffs. These are great to get a chic romantic look like in the late sixties.
Tall & Platform Boots
I think when you are tall, knee high boots are the shoes you get instantly fan of. It's an investment but I learned with time you don't go anywhere with cheap boots. I invested in some tall boots and they can be worn with skirts, dresses, slim pants and they last for years. They perfectly balance comfort and elegance. This fall I will certainly wear them with my long brown chocolate coat, a chic plaid blazer, classic straight leg jeans and my vintage Hermès scarf. Heavy soles boots are a bit trickier to wear if you are tall. I suggest to get a pair with slight heavy soles, especially at the front. I will step up a notch these kind of platform punkish boots with casual, minimalist clothing such as a floor length skinny dress or a midi skirt. Then too elevate a bit more, I will add a big piece of jewelry or an accessory.
Sweater Vests
It's a great wardrobe piece for creating a preppy chic look. I love a tennis vest sweater over a shirt or a skinny turtleneck with a midi skirt but if I want it more casual I wear it with jeans.
Leather Head to Toe
A good leather piece always bring your style to another level. I love midi leather pencil skirts and leather jackets. They are so easy to wear and timeless. Last season was all about colorful leather but now is more black gothic with long coats like a Matrix uniform.
Chains
Triple or double-layered chain necklaces, chain belts you will see a lot of chains everywhere even now on shoes. This season I bet on chunky gold chain-link drop earrings because those I've seen in Sacai's fall 2020 collection are extraordinary beautiful.
Cutout Tops
I'm essentially targeting elegant cuts with a flair of sexy. These long sleeves tops are a great way to show some skin without freezing too much.
Fringes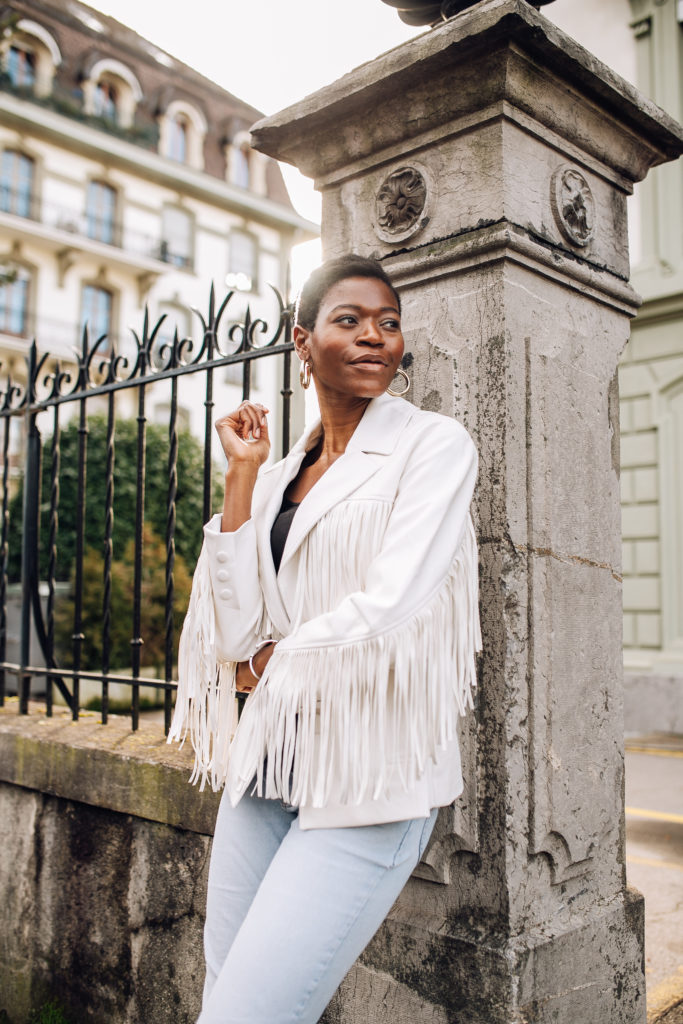 Since I bought this white one above I love fringed jackets and I would love to have two extra ones in black and camel. Fringes now are not only on jackets but also on skirts and dresses.
Metallics
Maybe something I regret of not wearing it more often. It would be great to transform it as a neutral. I saw a look with a metallic sequined skirt at Givenchy runway show I would love to copy.
I will certainly update this post so make sure to come back to see other interesting fall trends.
Some of the links included in this blog post are affiliate links, meaning that I may earn a commission if you click through the link and make a purchase.
In the same category